Op-Art or Kinetic Art is a style of visual art that makes use of optical illusions. It developed after World War II in New York. In abstract sculpture the use of these optical illusions causes the impression of movement, hidden images, vibrations or swelling and deformation. The observer actively participates by moving or displacing. Vasarely stands out in painting and Jesús Soto in sculpture.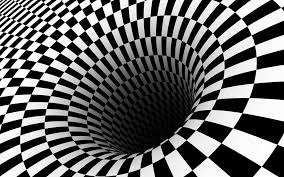 These sculptures that I present to you, change according to the point of view from which you see them. Are you able to make them, can you make another one inspired by them?
You can use cardboard, plasticine,...