Drawing with ballpoint pen (portraits)

Now we are going to get a little more complicated; we are going to draw a portrait.
I'm sure you have magazines and newspapers lying around with a face you like.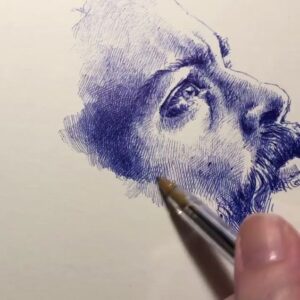 Well, don't panic. Don't freak out. It doesn't have to be like this, does it.
Portrait drawing ballpoint pen (click here)
Of the techniques in search of textures, the most appropriate for its free stroke is that of the scouring pad, that is to say, we make loose and very intuitive strokes like the threads of a scouring pad.
It is advisable to adjust the shapes using pencil strokes beforehand.
Doodle technique-how to draw a face with a ballpoint pen (click here)
The result can be something like this:
Alcohol expands the ink, so it is advisable to control the areas with more light.
Here ends this second installment of "pen and alcohol"; the third installment will be coming soon.