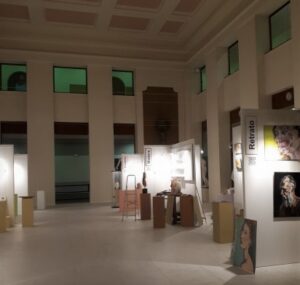 The School of Arts and Crafts of Vitoria-Gasteiz continues its renovation process. In this case it is the turn of the school's auditorium, where architectural barriers have been removed and a new exhibition space has been created.
And to kick off the new cycle of exhibitions, there is nothing better than a sample of some of the processes and projects carried out during the 2018/19 school year by the almost 1000 students enrolled in the different specialties.
The collective exhibition, entitled "School Scenes", is made up of a total of 17 micro-spaces representative of the different workshops: leather, drawing, digital image, sculpture, photography, digital cinema, engraving, children's creativity, bookbinding, ceramics, wood carving, art game, young art, watercolor, painting, natural drawing and portrait.
The exhibition will open next June 17, 2019 and can be visited during the center's opening hours until next October.