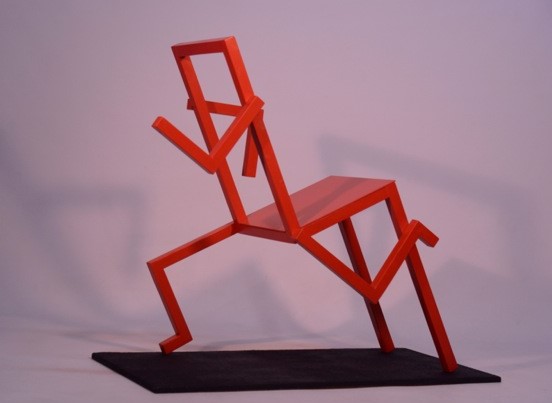 FLEEING THE MAGMA
At a meeting of some members of the School of Arts and Crafts of Vitoria-Gasteiz, held at the beginning of the 2021-22 academic year, the decision was made to carry out a monographic work with the intention that different sections of the school could participate. The theme chosen for this project was "chair".
During the fall and part of the winter, many students worked on the proposal, creating personal pieces. In January, a monographic exhibition of the students' works was held in the School's exhibition spaces. Different sections of the School participated, wood carving, ceramics, drawing, painting and of course sculpture.
In the sculpture section, there was a good participation and interesting pieces with very different styles, approaches and construction materials could be seen. Among them, a first year student made one dedicated to the island of La Palma with the theme of the eruption of the Cumbre Vieja volcano. It was a chair running for safety, before the arrival of the lava to his house, with the title "Fleeing the magma".
The piece was generally liked by the teachers and students of the school and the author, encouraged especially by his fellow sculptors, entertained the idea of trying to auction it and that the amount that could be obtained would be dedicated to the victims of the volcano. After some negotiations, the student contacted Lavalientes, an NGO from La Palma that is dedicated to raise funds for this purpose, and they managed the operation.
The sculpture was auctioned on eBay and the piece was awarded at a final price of 3,000 €, to a person residing precisely on the island of La Palma. The piece has already been sent to the island and delivered to its new owner, who apparently intends to exhibit it to the public in a building of his property and place a commemorative plaque.